A speculative record
Once again last week, options traders became even more aggressive. It has reached record levels by some metrics. As a percentage of total volume, speculative call buying last week hit a level never seen in the past 20 years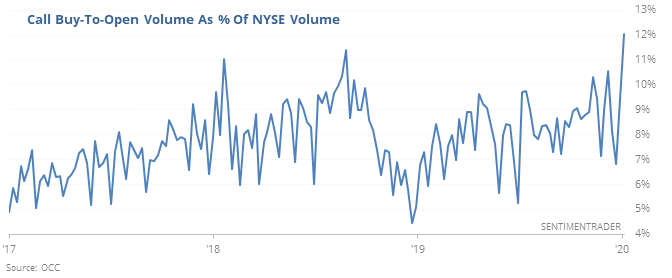 That's the most ever, eclipsing the prior peaks that happened to equate with notable peaks in the S&P 500.
An argument could be made that for every buyer there is a seller. But these are customer orders. Even if a customer is buying a call as a stock replacement strategy, they are still buying a leveraged, expiring contract that can only pay off if stocks move in one direction. That is speculation, and it has not worked out well in the past.
Volatility of volatility
As we begin another week of low volatility, VIX's weekly Bollinger Bandwidth has fallen to the lowest level since Q4 2018, when stocks tanked and volatility exploded. Low volatility remains a short term bearish factor for the U.S. stock market right now.
When this happened in the past, VIX had a tendency to jump over the next 1-2 weeks, particularly over the past 15 years: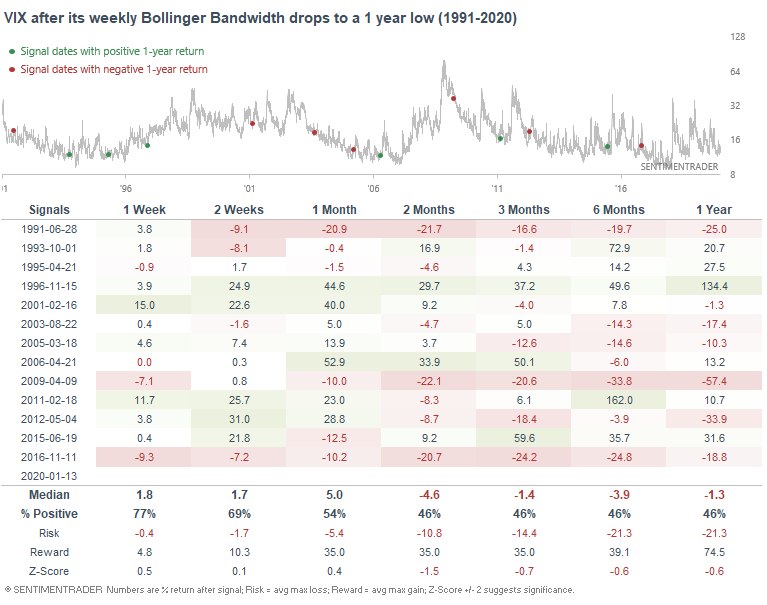 This is an abridged version of our recent reports and notes. For immediate access with no obligation, sign up for a 30-day free trial now.
We also looked at:
The equal-weighted S&P 500 keeps hitting 5-year highs relative to the capitalization-weighted index
The ratio of technology to financials just hit an extremely overbought level
High-yield spreads have plunged over the past year
What happens when corporate earnings are expected to increase
(Source: Sentimentraders)